EBYTE has acquired Retail domain expertise through years of exposure and association with various clients. This has been supported well by the fact that EBYTE has the technical expertise to handle challenges that are part of today's industry dynamics. EBYTE has been able to overcome all the challenges faced and deliver a quality product that meets and exceeds customer expectations. Retail Practice at EBYTE is a blend of technocrats with good exposure to the Retail domain. The group has been innovative and solutions oriented in building and maintaining applications in Retail space.
EBYTE has been involved in all the phases of the project lifecycle on the Retail domain: Requirements Elicitation and Analysis, Architecture and Design, Development, Testing, Re-Architecture and Re-Engineering client implementations, Production support and User documentation.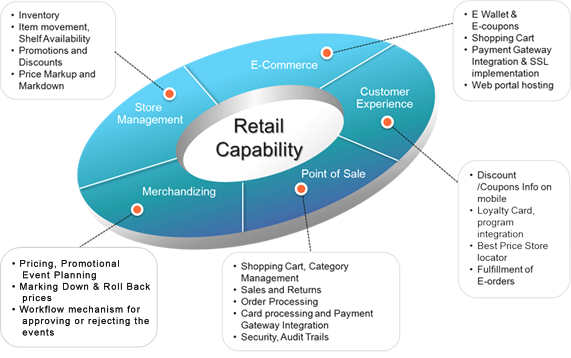 EBYTE's domain knowledge and understanding of the Retail vertical coupled with our experience in this domain spanning over a period has enabled us to offer to our customer unmatched value proposition. EBYTE has provided end to end solutions in various retail sub domain such as Point of Sale, Merchandizing, Store Management, Ecommerce and Consumer Experience.
The retail Practice has good expertise in implementing PCI data security standards (DSS) and has built customized reporting solution (analytical and ad-hoc reports) for POS sub area considering the ARTS data model as reference. EBYTE has excelled in working on a product which helps retail industry to analyze data and provide solutions to improve the profitability. The group has good knowledge with some of the tools like ORDM, Microsoft Dynamics and OFBIZ and has expertise in mobilizing solutions, integrating applications with Barcode, RFID, and various payment gateways.